Home
Traning
Gallery
Contact Us

Buddy's Dog House is a Dog Grooming Parlour in Maghull, Liverpool.
Buddy's resident dog groomer Alison, has over 10yrs experience at the highest level, within the dog grooming industry and a reputation for her attentiveness and affection she shows to all Buddy's little pooches.
Alison offers a range of dog grooming services including shampooing, half and full grooming and nail clipping for all breeds of dogs. Alison is both a pet lover at home, but also at work too, she has 2 Lhasa apso's called Buddy and Barney, and treats every dog she grooms like her own 2 little friends.
Buddy's Dog House has one the fastest growing reputations in Maghull, for a professional dog grooming experience with a tender loving touch, to make your dog not only look special, but feel special.


Alison has an almost ''Dog Whisperer like'' technique when cutting her clients dogs, that seems to relax the dogs from the moment they arrive. Alison never stops talking to the dogs she grooms, showing them the kind of love and attention we believe they receive at home from you.
Alison has several dogs that when first brought by their owners, were extremely stressed and agitated because of the treatment they had received from other dog groomers over the years, but with a little love and patience from Alison, they became more relaxed and stress free, when being brought to have a groom at Buddy's Dog House.
At Buddy's we provide a personal 1 on 1 service so your dog is never stressed by the presence of other dogs. All the time your dog is with us it will never be caged nor left for needless hours waiting for your return so you can be sure it gets the best possible treatment. We treat all our customers pets like our own.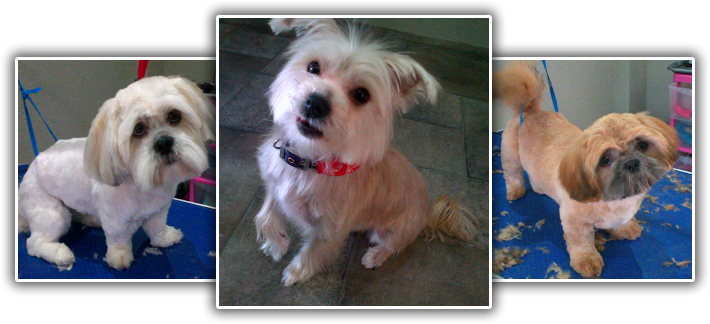 At Buddy's Dog House your dog will be guaranteed lots of love and attention, as well as a trendy new haircut!
If you are looking for a high quality dog grooming parlour in Maghull, Buddy's Dog House if for you!
We offer flexible hours and very competitive rates. To book an appointment or enquire about our services simply give us a call on 07528 007 333 or send us an email anytime at info@doggroomingmaghull.co.uk.